New this year!
Youcamp and the Garlaban campsite offer you different turnkey stays to discover Provence: www.youcamp.fr
A stay for families: Discovering the calanques with your family
Between land and sea, between the creeks of Marseille and the bay of Toulon, we will discover magnificent sites off the main tourist routes. Our journey will naturally lead us to taste a typical meal in a small calanque and to discover the vineyards of Cassis. Between moments of relaxation and swimming in the creeks, we will progress on foot, by sailboat and stand-up paddle in a preserved nature, above the sea and facing the Riou islands.
During this adventure, we will enjoy an exceptional setting thanks to natural and original activities, enough to satisfy the whole family, young and old.
Day 1: Marseille – Aubagne-en-Provence
Day 2 : Walk around the Embiez archipelago and paddle in the lagoon
Day 3: Walk around the Port d'Alon cove and discover the sea bed by snorkeling
Day 4: Hike on the Cap Canaille ridges and hike to Figuerolles
Day 5 : Viewpoint of the Calanque d'En-Vau and kayak from Cassis
Day 6: City Trek in Marseille (E-trott or E-bike)
Dates :
Next departures in 2021: every Sunday in July and August
Departures assured from 5 registered participants. 
From 750€ / person
Calanques landscape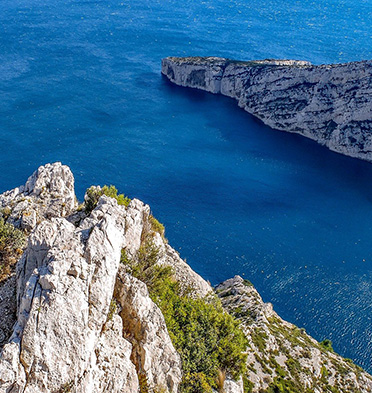 A stay for adults: Active discovery of the Calanques
In the heart of the Calanques National Park, your journey will lead you to discover the Calanques of Marseille and Cassis on foot, by electric bike and by boat. You will cross preserved natural environments. Along the paths, you will taste the beautiful Provencal life: swimming, tasting local specialities and visiting the Cassis vineyards.
Calanques Discovery Group E-VTT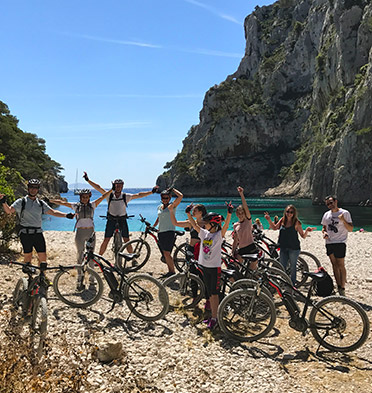 Day 1 : Marseille – Aubagne-en-Provence
Day 2 : Calanques by boat and hike in the Massif de Marseilleveyre
Day 3 : Hiking in Morgiou and Sugiton
Day 4 : Hiking in the Calanques d'En Vau
Day 5 : Electric mountain bike day – evening in Cassis
Day 6: E-bike trip to Marseille (morning). 
Dates :
Next confirmed departures in 2021: every Sunday in May and June and on request in summer. Then, every Sunday in September and October.
Departures guaranteed from 5 registered participants. 
From 750€ / person all inclusive